The Covid 19 emergency has driven most of us out of our offices to our homes where we are forced to wrestle with family or house mates for space to do our jobs. At times this can be a struggle, but this post covers some of the positives that I have found since we were asked to work from home.
My company was early in asking use to work remotely, about a week before the government began to tighten restrictions. It helps that we are fully setup to work in this way, although it was meant for flexibility, and not general use. This meant we had a few days to see what was missing from our home environment, even having the opportunity to pop back into work for equipment that we needed.
Personally, I made a trip to Ikea the next morning. I had been eyeing up a standing desk for my home for a while, but could not justify the price. Also, there was nowhere in my house to fit one. But with the likely medium to long term restrictions being put into place I think I made the right choice. Had I waited it might have been too late; Ikea have been closed in the UK and Ireland since March 20th.
So here is just a brief list of the positives that I have found about working from home. We appear sure to have to do so through April and May so it is important to focus on the positives.
Throwing Out Junk… Finally
I am a hoarder. I keep things indefinitely, especially if it is not broken or if I can see some potential use in the future. I still have spare SCART leads lying around, even though I am pretty sure that technology is long gone. My workspace at home had become little more than a storage area for junk: old shelves that I had taken down, toys that the children no longer play with, personal papers that need to be shredded or stored properly, equipment that is no longer in use.
COVID-19 forced me to be brutal with deciding whether to keep or throw out stuff. We ordered a small skip in week two of working from home and were able to fill it with junk immediately. It feels good to get rid of stuff, especially if it was too big for the regular rubbish bin but not worth a trip to the dump or recycling centre.
Having rearranged some of the furniture in my home office space, I now have a much more comfortable environment. This was a job that had been hanging over me for months (or longer). Getting the time to address it (cancelled sporting and social events) and the need (not wanting to trip over junk on my way to work) finally motivated me to getting it done.
Less Commuting
This is an obvious one, and probably shared by most people. My commute involves a twenty to thirty minute bus journey, which is not particularly arduous. And since I live near a bus terminus, I can usually get a seat on the way into work. This gives me a chance to read, meditate or listen to an audio book.
I found that I was missing something at first when working from home. Going straight into the office after kissing my family goodbye was a little too abrupt. It's difficult to explain, but I was not settling into work like normal. Distractions kept interrupting me and making the start of my day less productive.
The solution I came up with is to take a short (or long) walk around the neighbourhood, carefully keeping social distance, before settling into the workday. A ten to fifteen minute spell is enough to create a divide, a mental division between being and home and being at work.
This amount of time is also enough to listen to a short chapter of an audio book, or do a walking meditation. That appears to be sufficient to replacing what I missed from my bus commute.
Lately, one or both of my children choose to join me on the walk. They feel the need to have a definite divide between the usual morning routine and home school, which they complete first thing each morning.
Family Time
Working has an impact on the amount of time you can spend with your family. That's the obvious sacrifice that almost everyone makes to try to live. COVID-19 is going to put a lot of strain on families with young children that don't respect that you are in a meeting, or on teenagers, that are going to find social isolation from their peers intolerable. My young family is at a great age, just before the teen years, that they don't fall into either bracket.
So when I clock off at lunchtime or the end of the day, they are still happy to see me. When working in the office, the extra half-hour of commute time was likely to dampen their enthusiasm to see me. I get to bring them out for a walk, scoot or cycle at lunch or immediately after work now. It's great.
I also see more of my wife. While we are not able to go on date nights, given the lockdown, we have used the benefits of working from home to carve out some time for a different sort of date night. Once a week since the restrictions, we have fed the children early, stuck on a Disney movie for them and given ourselves space for a meal together, sans enfants.
Last week I was able to get a rack of lamb seasoned at lunchtime and the barbecue prepared. I lit it during a short break about fifteen minutes before finishing up for the day. The lamb was ready after about an hour of indirect cooking and we had a delicious meal. This was only possible because of COVID-19. It's one practice that we might keep going in the future.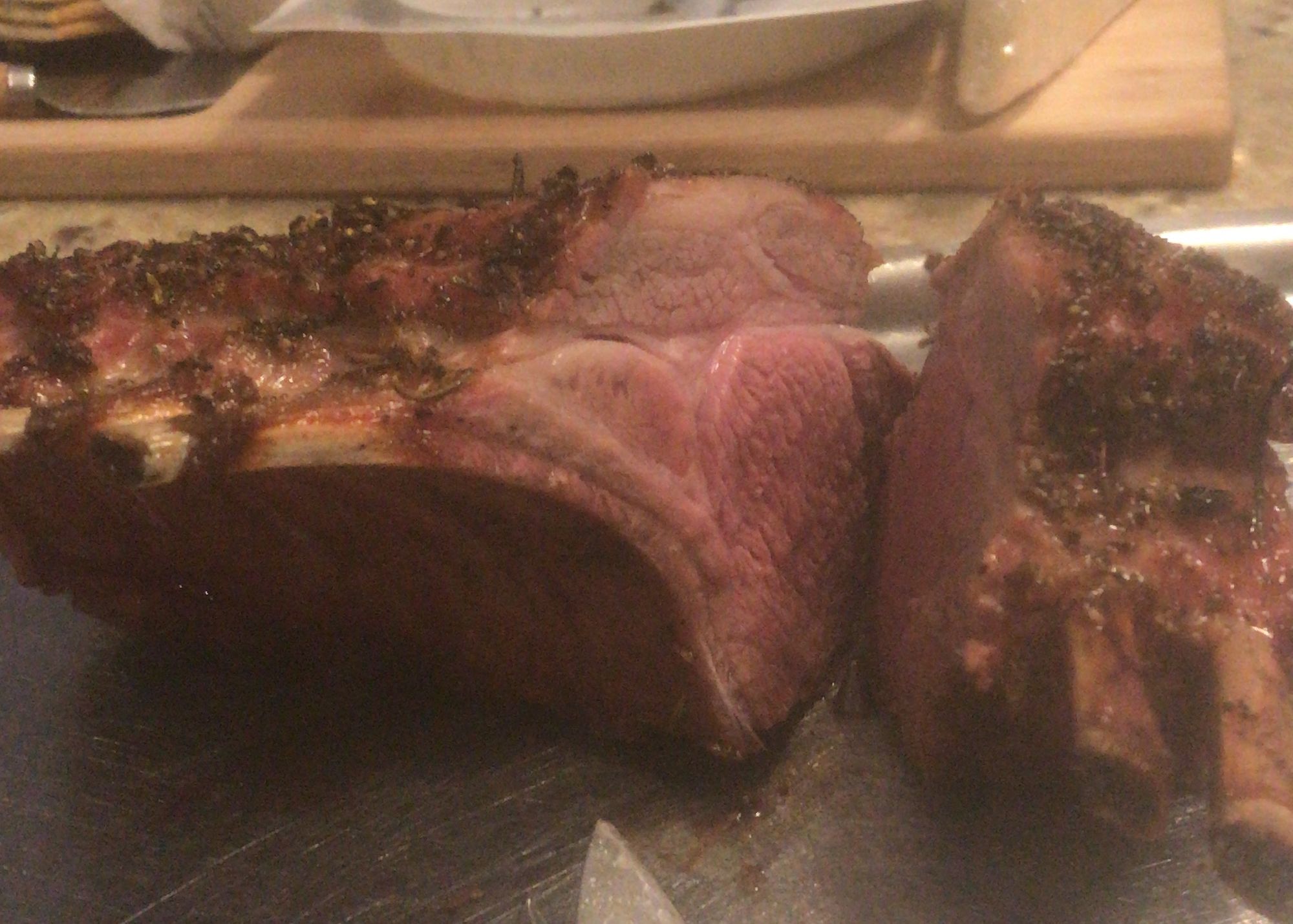 It doesn't have to be a home cooked meal either. We plan to order a takeout meal from our favourite restaurant the next time. Either one of us can drive over and pick it up while the other is present with the children.
A Break from Air Conditioning
I suffer from certain allergies; not to a chronic extent, but I have year-round sinus issues. Household dust and pollen are major contributors to my hey fever. But I have long suspected that the air conditioning units in office complexes play a heavy role in causing my symptoms.
Have you ever come into work and noticed a visible, thin layer of dust on your keyboard or screen. No matter how you clean and dust, you are almost guaranteed to have a layer of the stuff back within a day. The role of air conditioning appears to be only to keep the temperature even, and it does a questionable job even at that. There does not appear to be any focus on the quality of the air that is pumped around office blocks.
Have I noticed a difference, since working from home? At first, no. I was stuck in a dusty part of the house and suffered just as much. But having sorted my home office space out, I now have more control over how much dust is allowed to build up. Some of the saved commute time is re-directed into an extra vacuum of the house. Altogether, there has been a huge improvement.
Appreciation
When you witness the huge death toll caused by the COVID-19 outbreak, the loss of jobs across multiple industries and the confusion in the stock markets, it can be comforting to focus on what you have in your own life that you can appreciate. I am healthy and so is my family. My parents have been in a cocoon, self-isolation, since mid-March and are also healthy. While my job is under threat, I can be comforted in the fact that my skills are easily transferable. I have a lot to be thankful for.
That humanity will recover from this world wide disaster seems probable. It may take longer than the politicians admit at the moment, but we will bounce back. Things may be changed, a little or a lot, forever. I think it will take a long time before we are again comfortable when a stranger coughs or sneezes within a closed space; the wearing of face-masks, which has grown common recently, may be here to stay, for example.
When it's over and the virus is forever dead, we have the opportunity to learn from the mistakes. Why was Europe and North America so slow to heed the warnings from China? Why did individual states take action before the national government stepped in to make decisions? Was time lost that could have limited the spread of the virus?
COVID-19 is lethal to some of the vulnerable in our society that caught it. However, it could have been a lot worse. Most people, those younger than seventy, while sick for longer than they would normally be, have recovered well. We should be thankful that for the majority of our society this was not a deadly virus.
Conclusion
Focusing on the positives is a form of mental therapy. If we keep repeating and thinking about the things that we cannot do during the lockdown, surely this will lead to depression. The opposite, to look for silver linings in the new world can hold such depression at bay and even reverse its effect.
While these are strange and troubling times for most of the world, it appears that the stringent measures that are being taken are slowing the growth of the virus. If all countries work together then we can end the threat.
Wouldn't it be remarkable, that all the world governments working together with a shared plan to stop the spread of the virus through social distancing, tracing interactions and movement, and sharing the data an insights with one another to revise and improve the plan. The defeat of COVID-19 may end up to be one of humanity's collective great acts.